Route through the rooms
The museum's collection are subdivided into 59 sections, laid out over 12,000 square metres. The rooms are 10 metres high and the total wall space is more than 3 kilometres.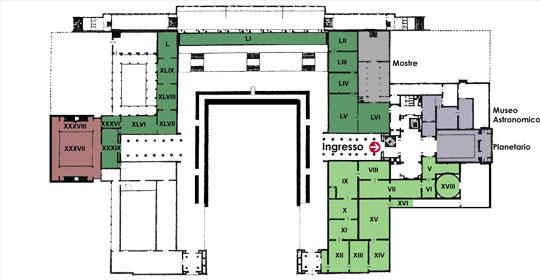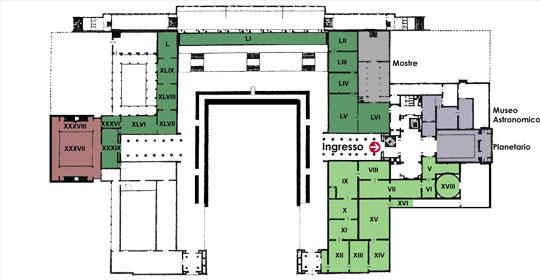 The first 14 rooms tell the complete story of the history of Rome, from its origins to the VIth century AD; following on from this is the section devoted to Christianity.
The rest of the museum documents Roman culture in its various aspects, both those related to public life, and those belonging to the every day world.
The works contained in the rooms are made up of reproductions: casts of works of sculpture, inscriptions, parts of buildings, copied at full scale, and objects in daily use; reconstruction models of the monuments and architectural complexes of Rome and the provinces of the Roman Empire; reconstructions of situations and instruments of every type, based on archaeological finds, figured representations and the descriptions of the ancient authors.
The materials on display have great documentary and didactic worth, particularly so in the case of those materials whose originals have been lost or destroyed and in the re-composition of ancient works whose composite parts are separated among various museums.
The Museum of Roman Culture is undergoing extensive structural repairs, which has entailed further work to redecorate the rooms of the museum, work that is still in progress. For this reason, not all sections of the museum are currently visitable.
101,114,101,134,101,173,102,168,116,168,120,153,120,135,144,131,174,131,177,110,156,111,160,90,157,80,159,67,158,51,160,31,192,30,205,33,225,33,241,35,256,33,294,33,178,45,327,45,326,45,193,44,290,33,300,32,308,31,315,32,327,32,338,33,356,32,356,53,357,99,329,55,330,81,329,95,357,94,327,91,326,46,178,45,321,44,358,102,389,105,388,120,385,131,330,130,326,45,176,113,322,49,177,46,178,92,177,44,177,110